Arthaniti (The economics and public policy club )
Arthनीति, the Economics and Public Policy Club of IIM Raipur, was established with the aim to cultivate enthusiasm in economics and public policy among students.
It is formed with the vision to provide students with opportunities to discuss and deepen their understanding of economic and business issues, preparing them for critical thinking and independent analysis to lead a life of responsibility and leadership.
Driven by determination towards enriching the existing knowledge of Economics among students, we the members of Arthनीति provide a platform to students where they can grow their knowledge about Economics with the help of Guest lectures, Quizzes, Workshops, Games, Group Discussions, Debates and Peer learning.
Along with two weekly initiatives Hulchul and E-shots where we share the current happenings in the world and economics related terminology with the students of IIM Raipur.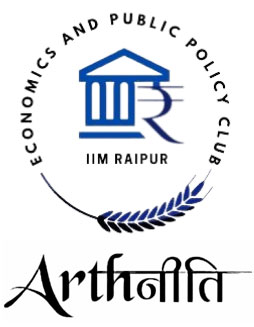 To help with the aim of the club, different events are organised, some of which are as follows-
The Arthनीति Talks: The flagship event of Arthनीति, it is a rendezvous of Arth- Economics and नीति-policy. Providing students insight about both the worlds and how they combine is the aim of this event.
Arthनीति's initiatives reflect its commitment to nurturing students' passion for economics and public policy. By providing a platform for learning, discussion, and exploration, the club plays a vital role in shaping future leaders and thinkers in the field.