With the ever-increasing use of technology and industries flourishing, the amount of pollution in our environment is increasing at a rapid pace. Keeping our environment clean is a very important part of our lives in these days. It is important to focus on this as we have to make sure that the environment is preserved for future generations.
We, Prakriti- The Eco Club of IIM Raipur, help to propagate the importance of keeping the environment clean. We are constantly putting our effort for the betterment of the environment with utmost zeal and vigour and we hope that this effort does not diminish for years to come as the sustainability of the environment is dependent on the human activities and we as a responsible citizen of the Mother Nature should contribute towards making this world a better place to live in.
Our vision is to create a natural, holistic, student-centred learning environment that empowers and inspires our students to be creative, innovative, green leaders and eco-friendly decision makers.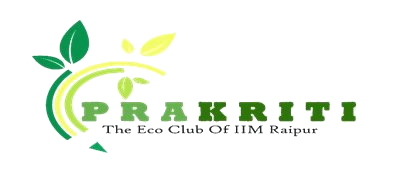 Plant a Hope-Tree Plantation Drive
With an aim to contribute towards the nature a Tree Plantation drive was conducted on 11th of December 2018. The Drive was flagged by our respected Prof. Bharat Bhaskar, Director, IIM Raipur.
ECOVEGA-2.0 Case Study Challenge
The objective of this challenge is to undertake a participatory approach to environmental management. Students were asked to come up with various solutions and policy changes that could impact the environmental challenges overall and help the organizations involved in curbing/monitoring it.
"Candlelight Vigil" An event conducted to support our initiative to save electricity as a part of Quami Ekta Week (19th – 25th November 2018). The lights were shut while the students of IIM Raipur Marched in the campus holding Candles and placards with slogans based on electricity savings and its importance.
The ECO club of IIM Raipur conducted a one day trip event for the students. The trip included activities like trekking, swimming, kayaking and rock climbing.
An innovative and novel policy making competition. It has been an excellent opportunity for all the graduates to come up, suggest and amend the existing environmental policy and a chance for all candidates to see the implication, impact and constraints of any policy from the eyes of policy makers.
SPLASH - Drawing Competition
With the aim of always keeping the club engaged in activities, Prakriti came up with a plan for organizing a drawing competition for school students on 16th of Sept. 2017 which is also celebrated as "The International Day for Preservation of Ozone Layer." The event was organized in Pranavananda Academy situated in VIP Road, Raipur. Students were encouraged to portray the world the want to see.
This is a digital poster making competition that captures the protection of wildlife and encouraged students to use their artistic skills and innovative ideas to support this campaign.