"It's not about ideas. It's about making ideas happen." – Scott Belsky
Entrepreneurship Cell was separated from Consulting Club in 2022 as part of our commitment to fostering innovation and supporting aspiring entrepreneurs.
E-Cell – The Entrepreneurship Cell of IIM Raipur is a student-run independent body, dedicated to foster the entrepreneurial mindset among students and providing them a platform with abundant learning opportunities and industry exposure in the field of entrepreneurship.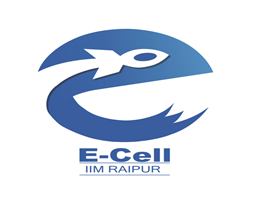 Apart from the well-known Annual event "Biz Quiz" and "Pitch Perfect", E-Cell, in the last few years has stepped ahead and now, is proud to collaborate with 36INC-the startup hub of Raipur, Lemon Ideas School of Entrepreneurship and We Founder Circle
We also conduct regular sessions where experts from the industry come together to imbibe students with the knowledge of entrepreneurship and guide them on making an impact in the business domain.
Biz Quiz – The online quiz was conducted on unstop to test the business acumen with students from various B schools. The quiz consisted of questions from multiple domains like business, entrepreneurship, and relevant current affairs.
Pitch Perfect– Pitch Perfect is a B-plan competition organised by the Entrepreneurship Cell of IIM Raipur. It provides an opportunity for future business leaders to get into the shoes of entrepreneurs and pitch their business idea which solves current issues in an innovative way.
Industry Interactions– Throughout the year E-Cell has organized multiple interactive sessions with industry stalwarts. Some of these include
Agri startup conclave – A trip was organized to explore the Indra Gandhi Agriculture Institute and gain insights from Agri- startup conclave. The Agri Startup Conclave provides valuable insights and learnings for entrepreneurs in the agricultural sector. Participants gain knowledge about the latest innovations, technologies, and trends in agriculture and agri-business.
We Founder Circle– We founder Circle in collaboration with the Entrepreneurship wing of IIM Raipur organised Startup Mixer, a grand opportunity for individuals, startups, colleges, and startup communities for networking, sharing ideas and conversations with highly innovative and enthusiastic founders.