Incoming Exchange Students
Inbound Exchange Programme
Incredible India – these words best describe the enigma that is India. The qualities of charming power and intriguing ability are its epitomes. Besides, in recent times our country is being viewed as an emerging market. Being an exchange student with IIM Raipur means one would have an opportunity to look at the Indian story and study it closely.
Rich in culture, India is as colourful as it is diverse. It offers an inbound exchange student the opportunity to see it in all its glory, up close and personal. Helping you along the way would be a buddy assigned to you by IIM Raipur to help, guide and be a friend in your stay here. They will answer your questions and treat you to the hospitality India is known for. During your free time, you can get to know your surroundings, maybe even go over a weekend to check out the natural sights nearby. In India we have a saying Athithi Devo Bhava – a guest is like God. So welcome, and learn. Let your Indian Experience become a wonderful memory you turn to every once in a while. IIM Raipur has welcomed students from leading B-schools across the globe.
Following are some important tips and life hacks that'll enable you to fit in easily and help you have a pleasant and comfortable stay here at IIM Raipur.
Incoming Exchange Students
1. Accommodation and Expenses :
All international exchange students will be provided accommodation in student's hostel on dual sharing basis. All rooms are furnished with top of the line furniture. All rooms are fully equipped with Wi-Fi internet connection; the students are required to carry their own laptops.
Although the students are not required to make the payment of tuition fees, they are however required to bear their living and travelling expense during their stay at IIM Raipur. The breakdown of the expense for the complete term is given below:
a. Hostel fees: Rs 9000 per trimester.
b. Mess charges: Rs 4000 per month.
Apart from these fix charges students can safely assume that a budget toRs 15000 per month will ensure a comfortable stay in Raipur.
All international exchange students will require a student visa to study in Indian institutions, an ordinary tourist visa will not be sufficient. Student visas are issued to bona-fide students who seek to pursue their studies in India. These are multiple-entry visas and are valid for the duration of the course of study or for a period of five years, whichever is less. Exchange students are required to complete their visa formalities on their own. Please contact the Indian Embassy in your home country for further details regarding visa processing, after the formal exchange program application has been sent to IIM Raipur.
If for some reasons the students do not have a final letter from the institute, they cannot be issued a student visa. In such cases, students can apply for a provisional visa based on the provisional admission certificate/offer letter issued by the institute. Provisional visa is usually valid for 3 months.
In case any information or assistance (particular document etc.) is required, the students are advised to contact International Relations Office, IIM Raipur.
i. Library :
ii. IT infrastructure :
iii. Class Rooms :
iv. Gymnasium :
A gymnasium with state of the art equipments has been set-up recently. The fitness center has weights, exercycles, multi gyms, treadmills, cross trainers etc. for fitness enthusiasts.
ii. Institutional Fee Payment :
Students coming to IIM Raipur will not be charged any additional academic fee. Students are supposed to pay fees to their home institute for the academic term as usual.
All students are required to have their own laptop as a part of the academic system. The Institute is fully equipped with Wi-Fi which can be accessed from academic area or student hostels.
iv. Mobile Phone Handset :
Prepaid SIM cards are easily available and should work with any tri-band unlocked GSM Mobile Phone Handset
v. Clothing and Apparels :
Students are required to attend classes in formal wear, which includes formal shirts and trousers. Women also wear Indian dresses or long skirts. Students are also required to carry at a set of business formals for official purposes. You may carry cloths that suit the tropical climates like jeans and T shirts. For the winters sweaters or light jackets would be sufficient.
Bring a pair of formal shoes, sneakers, and any other footwear that you find comfortable for daily purpose.
Please carry three months' supply of any regular medicines that you may usually take because of health conditions. Also, bring medicine, which may help while you get accustomed to spicy Indian food.
Bring some dry snacks with you as they will compliment your meals while you adjust to Indian food.
The plug points in India are calibrated to use 240 V, 60Hz, round pins. If your laptop adapters and mobile phone chargers are incompatible to these standards, bring electric converters along with you. Use of any other electrical equipment, like heaters, electric stove, etc. is prohibited on campus.
x. Calculator and Stationary Items.
5. Important Information :
iii. Airport and Railway Station
Swami Vivekanand Airport is located around 15kilometers (9.5 miles) from IIM Raipur campus. Airport connects Raipur to all the major Indian locations including Delhi, Mumbai, Kolkata and Chennai. Pre-paid taxi service is available at the airport.
Link to map: Airport to IIM Raipur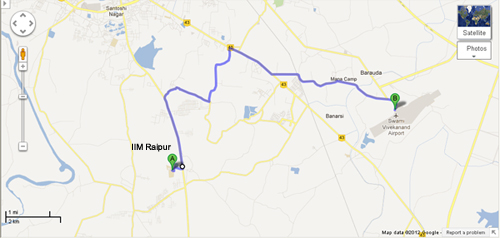 Raipur railway station is located about 12 Kilometers (7.5 miles) from IIM Raipur campus. Raipur, being a state capital is well connected to different parts of the country through the railway network. Daily train servicesare available to important cities in the country.
Link to map:Railway station to IIM Raipur
iv. Weather During the Exchange Term :
Raipur has a typical tropical climate, it is mostly dry and majority of rainfall is during the monsoon period (late June to early October). Incoming students can expect a fairly dry spell during their stay. The exchange term which is planned during winters, the temperature is usually mild; ranging between 13°C (55°F) to 30°C (86°F). Weather is mostly pleasant though temperature can sometimes fall to 5°C (41°F).
Duration
Temperature (avg)
Season
From
To
Min
Max
Summer
April
June
24.8
42.1
Monsoon
July
September
23.8
31.8
Winter
October
January
12.6
30.2
Spring
February
March
15.9
35.8